Revolutionize the way you teach American history!
The Freedom Trail
®
Foundation Scholars Program brings the spirit and fervor of the American Revolution to life! Two - three interpreters take on multiple roles during the one-hour traveling interactive class to educate and engage students about major Revolutionary events such as the Boston Massacre, the Boston Tea Party, Paul Revere's Midnight Ride, and the Battle of Bunker Hill. Since its inception, the Foundation's Scholars Program has invited over 40,000 school children to interact with the interpreters, read portions of important documents and declarations, and reenact historic events. Designed for all schools, with scholarships available for qualified schools, the Scholars Program creates an intimate partnership with schools to meet their curriculum goals and complement teachers' lessons, and many schools secure the program year after year. Educators are provided with a special resource guide, including lesson plans and quizzes to help evaluate the effectiveness of the program, which is available from October through mid-April annually.
Contact us here or call 617-357-8300 to bring the Revolution to your classroom!
With support from:
Engie of Massachusetts for all Everett Public Schools
Massachusetts Society of the Cincinnati
In part by a grant from the Boston Cultural Council, a local agency which is funded by the Massachusetts Cultural Council, administrated by the Mayor's Office of Arts and Culture
Teacher Testimonials
Click to Open
"This fits in with our curriculum perfectly. Students were engaged from the beginning to end. Performers were outstanding. The performance was much more than I expected. I would most definitely recommend this for ANY class studying the Revolution. The program was awesome!"
Dona Williams, Eliot K – 8 School, Boston, MA
"This was a wonderfully planned program that engaged our third graders! The content was appropriate for the grade level standards. Our students loved being volunteers to be a part of the program. We all learned new facts about the events and people important to the American Revolution."
Tamsyn Shaw, Eastham Elementary School, Eastham, MA
"The program discussed the events leading up to the Revolution, which are taught explicitly in fifth grade social studies! The actors interjected comic relief which kept the students interested. The interactive components were very engaging to students with special needs! The question/answer component was particularly helpful to cement student understanding! I would definitely recommend this to another teacher. We hope to bring you back to the Curley each year!"
Kim Alston, Curley K – 8 School, Jamaica Plain, MA
"The fifth graders were highly engaged and entertained. The presenters from the Freedom Trail did a great job presenting the information in a clear and concise way. The show began with the students brainstorming what they knew about the American Revolution. This was a very interactive presentation, allowing students to participate and be a part of history."
Stacey Steinbergher, Martinson Elementary, Marshfield, MA
"The students loved it! I would recommend this to other teachers. It's absolutely a phenomenal learning experience."
Kristine Brown, 5th grade teacher, Community School, Cumberland, RI
Freedom Trail Scholars Program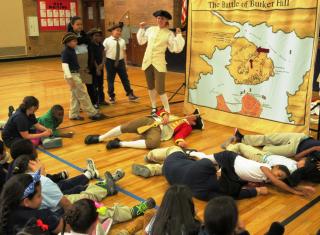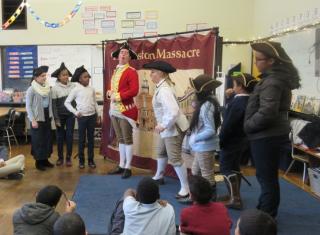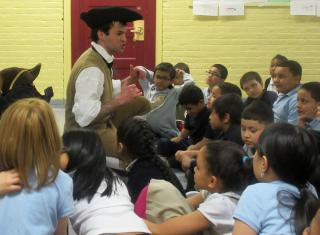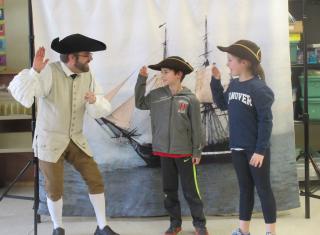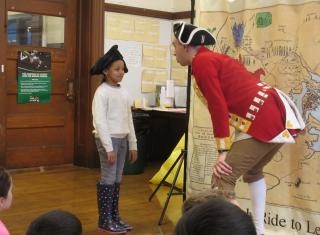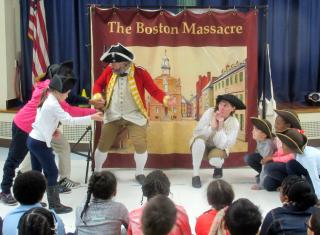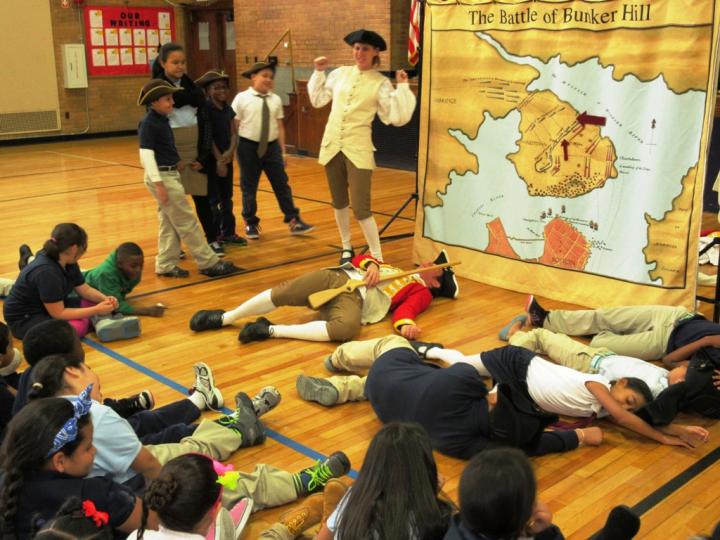 Battle of Bunker Hill Program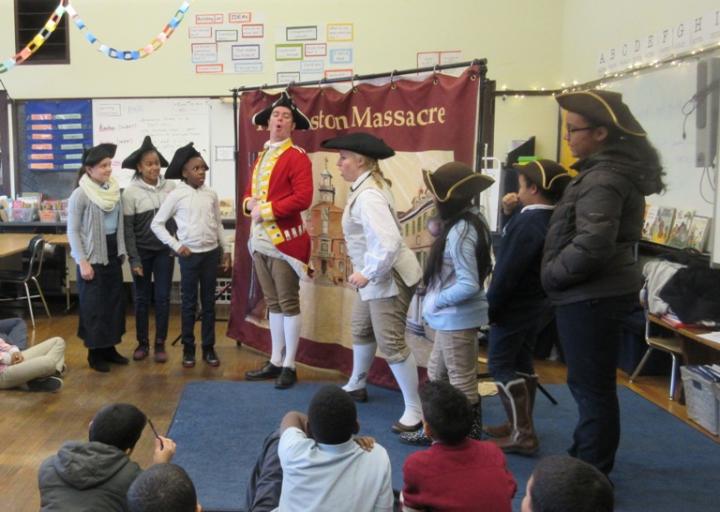 Boston Massacre Program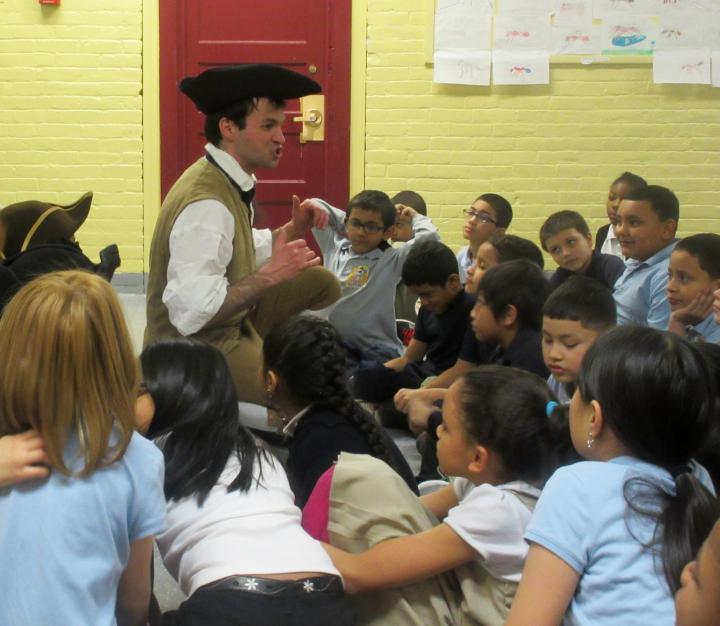 Freedom Trail Player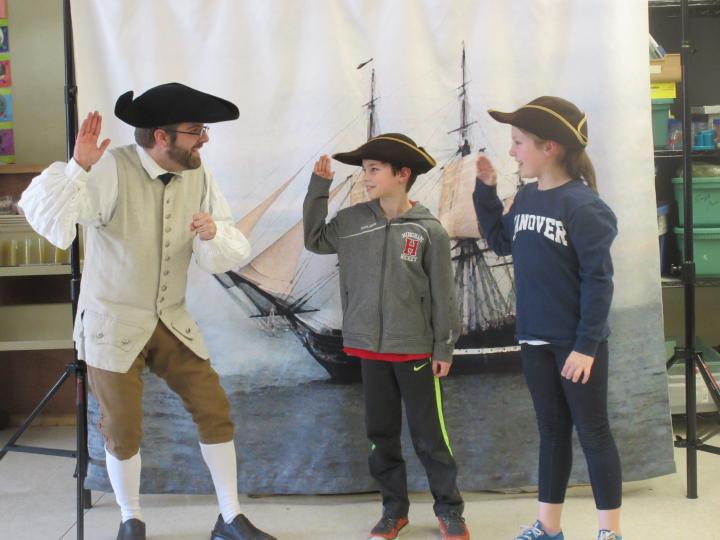 Boston Tea Party Program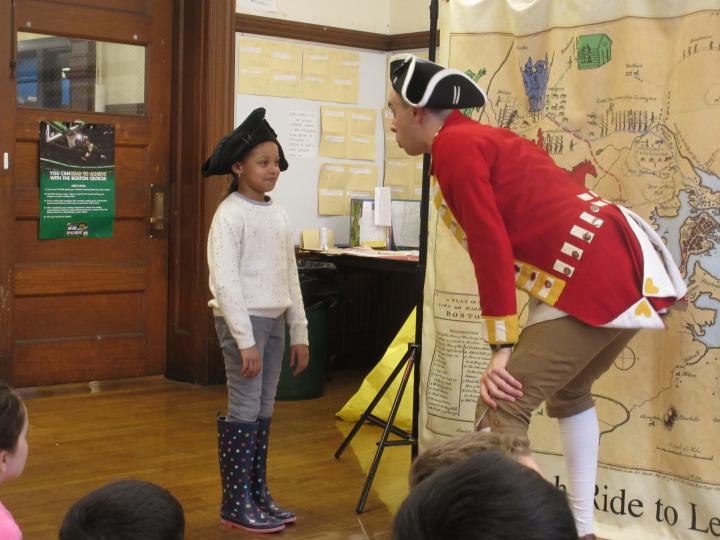 Paul Revere's Midnight Ride Program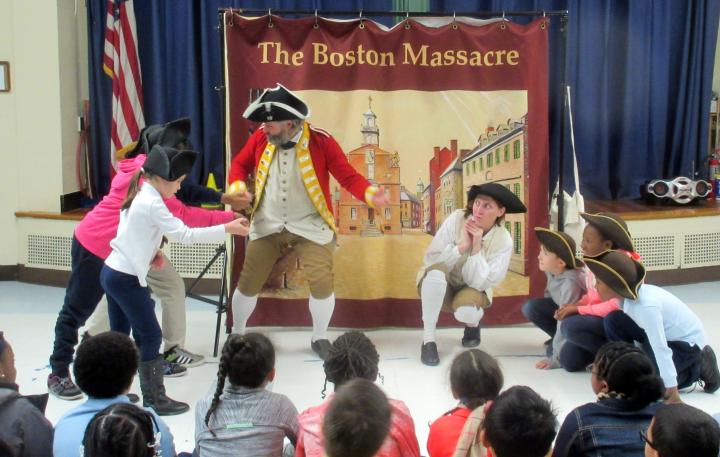 Boston Massacre Program