Visit
Welcome to Boston's Freedom Trail, a 2.5-mile, red-lined route that leads to 16 historically significant sites — each one an authentic treasure. Explore museums and meetinghouses, churches, burying grounds and more. Learn about the brave people who shaped our nation. Experience over 250 years of history, and discover the rich history of the
American Revolution as it began in Boston,
where every step tells a story.
There are countless ways to explore the Freedom Trail and its official historic sites. From year-round immersive programs and activities at the 16 historic sites to public and private walking tours led by 18th-century costumed guides, National Park Serivce's Park Rangers, and more, to self-guided tours by foot with a map, guide book, or audio guide, there are exciting and comforable methods for everyone to enjoy the authentic history and sites where fights for American's freedoms were ignited. Sample itineraries and resourses are available to help plan visits to the Freedom Trail.
Walk the Freedom Trail and experience over 250 years of history!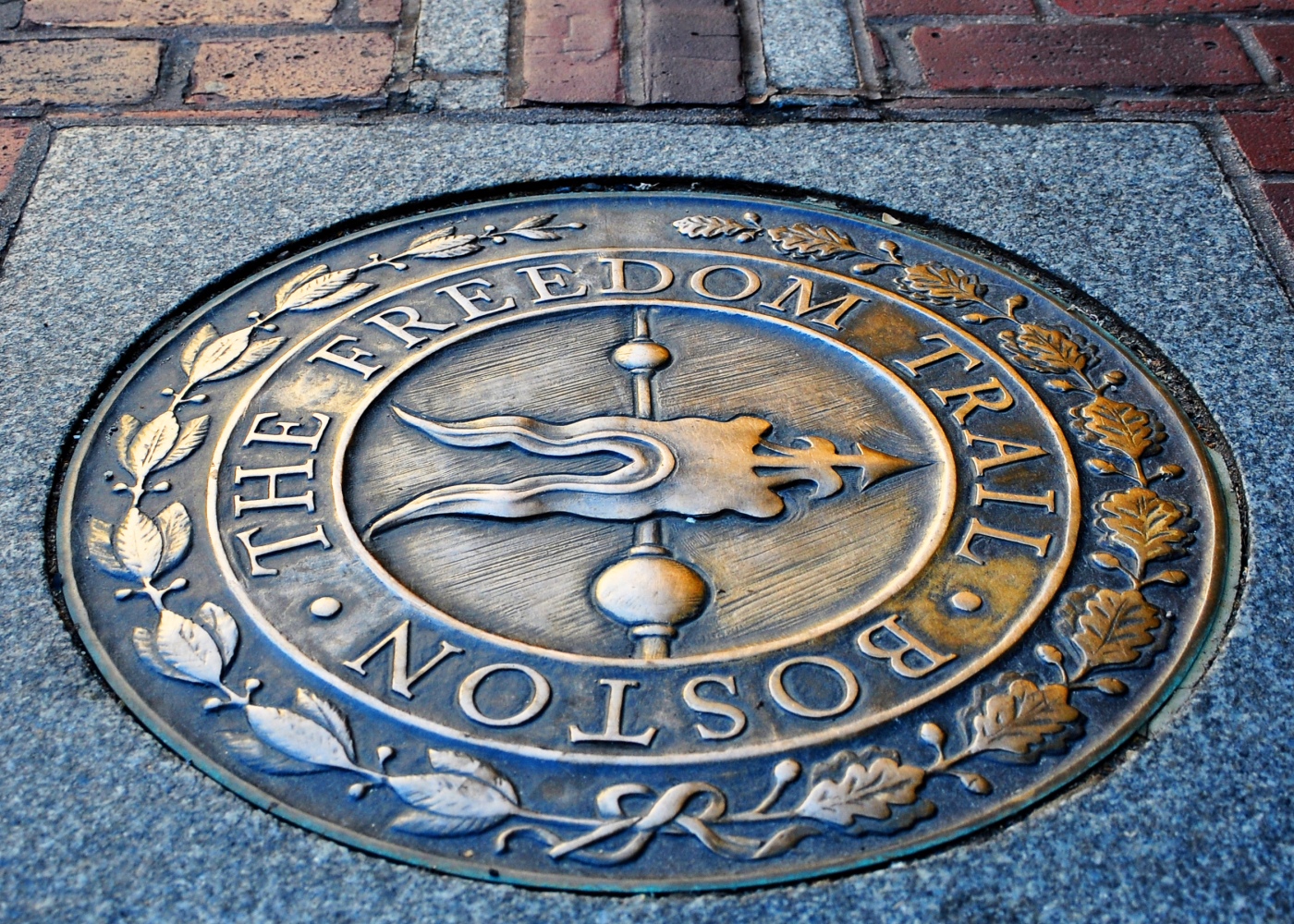 Freedom Trail Brochure
The 2018 official Freedom Trail brochure includes information on all 16 official Freedom Trail historic sites, activities, tours, a detailed map and more!
Download here
Visiting the Freedom Trail
Official Historic Sites
Step inside the places where the American Revolution was launched, from pews and pulpits, private homes and public offices, with fiery speeches and midnight rides. Experience Boston's indoor/outdoor history experiences!
All Sites
Walking Tours
Boston's official walking tours led by 18th-century costumes guides (or in plainclothes) are available for public or private groups 362 days per year. From individuals to large groups, tours bring history to life for everyone!
All Tours
Freedom Trail Store
Purchase Freedom Trail guidebooks, educational items, combination joint tickets, Hear History audio guide, souvenirs and more!
Shop here!
Featured Tours
The Freedom Trail Foundation's most popular tour highlights the revolutionary history that took place at 11 of the 16 official Freedom Trail historic sites.
Tour Schedule
Daily: 11:00 a.m. - 1:00 p.m. hourly (Returning Spring 2019: 2:00 p.m., 3:00 p.m., 4:00 p.m. & 2:30 p.m.)
Led by 19th-century Dickensian costumed guides, the festive stroll is complete with a tour of holiday lights and Christmas trees along the Freedom Trail and an exclusive visit to the Omni Parker House for signature refreshments and world-famous Boston Cream Pie.
Tour Schedule
November-January, select Thursdays-Sundays: 3:30 p.m.
All Freedom Trail tours led by 18th-century costumed guides are excellent for families, school field trips, corporate team building, incentives, and convention activities. These tours can be customized to fit your group's schedule and are available year round.